For the cartoon starring the robot itself, please see Zambot 3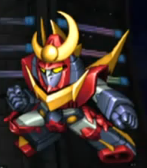 Zambot 3, along with the King Beal, are the primary defenses against the Gaizok invasion. Zambot 3 is formed when the Zambird, Zambull and Zambase combine by a sequence called Zambot Combination. There is a separate cockpit for each pilot. In the final battle, the Zambull and Zambase are destroyed in Uchūta and Keiko's successful suicide attack, and the Zambo Ace is damaged beyond repair.
Height: 60 meters

06:58

SRW Z2 Saisei Hen Zambot 3 All Attacks

Weight: 500 tons
Output: 350,000 horsepower (260 MW)
Energy source: Ion energy
Main weapons

Arm Punch - Retaining the launching fists of the Zambull, Zambot 3 fires its fist in typical super robot fashion.
Teisatsu Mecha Regon (Reconnaissance Mecha Regon) - Zambot 3 retains Zambase's remote cameras.
Zambot Grap - A pair of sai that can also join at the handles to transform into a double-sided lance, Zambot Blow, as well as a sword, Zambot Cutter. The variations are often used one after the other and to adapt to different situations.
Buster Missile - Missiles fired from the pods on sides of Zambot 3's legs.
Zambot Buster - The pods on the side of Zambot 3's legs are thrown like shuriken, and will often hit the enemy twice.
Moon Attack - Energy is gathered from Zambot 3's hands to the moon on is forehead. A crescent moon-shaped energy attack flies at the target, multiplies and surrounds it, then recombines and punches a crescent moon-shaped hole through the target.

Combination Attacks:

Combination Crash - Zambot 3 and Daitarn 3 send energy to the ornaments on their foreheads. Zambot 3 launches a crescent moon-shaped energy attack that flies at the target while 

Daitarn 3 fires a large burst at the same target

. Both of them proceed to do a double dive-kick that pierces the target if it is a dynamic kill.
Double Brat Attack - Zambot 3 and Trider G7 play catch with their weapons, which hit their opponent as they pass them. Whenever this gets a dynamic kill, both Zambot 3 and Trider G7 both do a flying kick. After the opponent blows up, Zambot 3 and Trider G7 both do a bro-fist, while Kappei and Watta congratulate each other.
3-3-7 Beat - Zambot 3, Trider G7 and Daitarn 3 perform a deadly combination attack with their various armaments
Invincible Combination - Zambot 3 and Daitarn 3 send energy to the ornaments on their foreheads. Trider G7's chest ornament forms an bird-like aura around Trider G7. Zambot 3 launches a crescent moon-shaped energy attack that flies at the target, 

Daitarn 3 fires a large burst at the same target and Trider G7 cuts the target with the bird aura. If this move is a dynamic kill, Zambot 3 and Daitarn 3 dive-kick at their target, while 

Trider G7 cuts the target again. The dive-kicks punch holes in their target. The Bird Attack slices cause the target to split into four pieces.



Weaknesses: Zambot 3 has very few glaring design flaws, but the most prominent one is that its armor begins to fail when in waters deeper than 7000 meters.
Zambird/Zambo Ace
Edit
Pilot: Kappei Jin
Zambird is a high-speed aerial vehicle which is able to go faster than Japan Self-Defense Force fighter jets. Zambird can transform into the humanoid Zambo Ace. Zambo Ace's primary armament is its Zambo Magnum. Zambird forms primarily the head and the inner torso of Zambot 3 and has two cockpits, with Kappei in the left and Chūnishiki in the right (which ultimately leads to the latter's demise).
Main WeaponsEdit
'Zambird'Edit
Tremble Horn: A laser that is shot out of the parabolic dish on top of Zambird.
50mm Vulcans: Fired out of the front of Zambird.
Missiles
Rockets
Zambo AceEdit
Zambo Magnum: A large gun which can be outfitted with different parts to form not only a magnum but also a sniper rifle and rocket launcher.
Pilot: Uchūta Kamie
Zambull is a tank-like vehicle that has the most hitting power out of the three parts of Zambot 3. Zambull forms the outer torso and arms of Zambot 3, as evidenced by the large fists that sit on top of Zambull.
Main Weapons
Giant Cannon
Missiles
Arm Punch: Zambull fires its fists.
Drill Missiles
Pilot: Kamikita Keiko Zambase functions as both an attack and support vehicle. In addition to possessing its own weapons for offense, Zambase also carries spare ammunition and Zambo Magnums for Zambo Ace, as well as remote cameras for reconnaissance. Zambase forms primarily the legs of Zambot 3, and is also responsible for overseeing balance and power distribution throughout the entire robot.
Main Weapons
Base Laser
Base Fire
Missiles
Teisatsu Mecha Regon: Remote spy cameras
Ad blocker interference detected!
Wikia is a free-to-use site that makes money from advertising. We have a modified experience for viewers using ad blockers

Wikia is not accessible if you've made further modifications. Remove the custom ad blocker rule(s) and the page will load as expected.