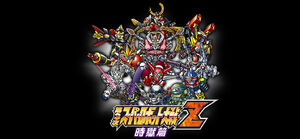 Super Robot Wars Z3 (第3次スーパーロボット大戦Z, Dai-3-ji Sūpā Robotto Taisen Z) is a Strategy/RPG game, developed by Banpresto , which was released in Asia in 2014. Released in PS3 and PSVita, this game will be divided into 3 parts, Jigoku-hen (Time Prison Chapter), Rengoku-hen and Tengoku-hen (Celestial Prison Chapter).
Introduction
Edit
As our heroes have returned home to Earth, after the events of the Super Robot Wars Z2, they've encountered yet another super temporal-dimensional quake. As the result of this incident, the New Multiple Century is born, with multiple worlds of the universe have fused altogether, and many of the heroes have been scattered across the universe, Henceforth, both a new war and an adventure known as the 3rd Super Robot Wars in the Z Universe have begun!
New Original Characters
Edit
Hibiki Kamishiro (ヒビキ・カミシロ) - Male lead character
Suzune Saijo (西条涼音, Saijō Suzune) - Female lead character
New Original Units
Edit
Series List
Edit
DEBUT Series
Edit
The first chapter revealed is the Time Prison (時獄) Chapter and the second chapter, the Celestial Prison(天獄) Chapter is been trademarked for future release info
Bandai Namco released a joke trailer on April 1, 2014 in which the first game was translated in English to Time of Hell.
Ad blocker interference detected!
Wikia is a free-to-use site that makes money from advertising. We have a modified experience for viewers using ad blockers

Wikia is not accessible if you've made further modifications. Remove the custom ad blocker rule(s) and the page will load as expected.