Super Robot Wars Z
Talk

0
337pages on
this wiki
Super Robot Wars Z is released on PS2.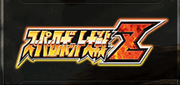 List Series
Edit
Overman King Gainer (NEW)
The Big O
The Big O Second Season (NEW)
Mobile Suit Z Gundam
Mobile Suit Gundam: Char's Counterattack
After War Gundam X
Turn A Gundam
Mobile Suit Gundam Seed Destiny
Space Emperor God Sigma (NEW)
Genesis of Aquarion (NEW)
Psalms of the Planets Eureka Seven (NEW)
Super Dimension Century Orguss (NEW)
Space Warrior Baldios (NEW)
Ultra Weight God Gravion (NEW)
Ultra Weight God Gravion Zwei (NEW)
The first Super Robot Wars title to be created under Namco Bandai. In many ways, it broke certain precedents and traditions: for example, the number of new series is more than any previous SRW. In this game, you play as either Rand Travis, a wandering repairman/mechanic, who's partnered with the young Mel Beater, or Setsuko Ohara, a member of "Glory Star", a small military squadron in the Earth Federation , alongside teammates Denzel Hammer and Toby Watson, as they are pulled through many conflicts. The main plot point of the game is Super Dimension Century Orguss's dimension bomb, which fuses an array of parallel worlds into one.
Main Series
Alpha
Compact Series
NEXT GEN
Handheld
Originals
OTHER