The Simurgh (スイームルグ) is a fictional robot in the Super Robot Wars series. It has appeared as a playable unit in
Super Robot Wars 64
Appearance
Edit
The Simurgh, a super robot, is a distinctively feminine robot, with a color scheme in a combination of Red, white and gold. Its design, based on Manami Hamill's image, the Simurgh looks like a cross between a magical girl and a school girl.
Technical And Historical
Edit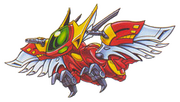 The Simurgh is created as a hobby by the present master of the Hamill household for future generations. The unit was constructed with all of their fortune and wealth being put into it, as well as getting the top scientists to work on it. It was originally designed as a machine that used two pilots to control it. It remained in the family only in blueprints until Steward Lawrence of the Hamill house had decided to join and help the resistance. They then began to work on the construction of it.
In battle, the Simurgh boosts impressive capabilities on both attacks and speed despite being a a recently built unit. It's equipped with two weapons: a sword and a boomerang. It has the ability to create afterimages of itself because of its affinity for illusions.
Simurgh Splendid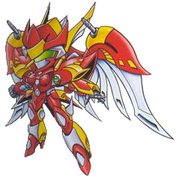 The Simurgh Splendid (スイームルグスプレンディッド, or スイームルグS) is an upgraded version of the Simurgh using the parts from the Elbulls. Since the combining mechanism for the Simurgh and Elbulls was omitted, it was decided that the Simurgh would be upgraded. As a result they managed to strengthen its weapons by converting excess energy taken from the Elbull's flight pack generator. Because of this it can use its strongest attack. The Elbull's cockpit is omitted, and the Simurgh Splendid is piloted by two people.
The Simurgh Splendid is equipped with newer weapons, while retaining it's older ones by strengthening it due to its dual generator. In the Original Generations Timeline, its combat data is illegally obtained by the Isurugi Heavy Industries from the Hamill Family and constructed it's successor without their approval, only to be used by Shadow Mirror pilot, Lamia Loveless.
Specifications
Edit
Model Number: SM-01
Height:47.3 meters
Weight:98.2 tons
Video Gallery
Edit
Ad blocker interference detected!
Wikia is a free-to-use site that makes money from advertising. We have a modified experience for viewers using ad blockers

Wikia is not accessible if you've made further modifications. Remove the custom ad blocker rule(s) and the page will load as expected.