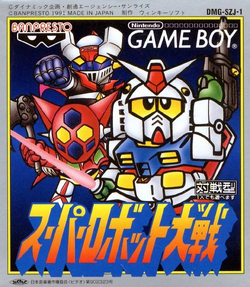 SD Gundam (SDガンダム, Esu Dhī Gandamu?) is a media franchise that spawned from the Gundam franchise. SD Gundam takes the mecha (and characters) from Gundam and expresses them in a super deformed and anthropomorphic style.
The series originated from a contributed illustration of a junior high school student from Nagoya by the name of Koji Yokoi to the "Model News" magazine that Bandai was issuing in the 1980s. The illustration is of a Gundam robot but with the weird proportion where the overall height of the Gundam is equal to 2 of its heads. This illustration interested the chief editor and so leading to Koji Yokoi serializing SD Gundam in 4 frame comics in "Model News".
The super deformed designs were suitable for capsule toys and so they were first merchandised as small SD Gundam-shaped erasers as part of the Gashapon series SD Gundam World in 1985. Built with a hole so they could be skewered into a pencil, the series was a hit with Japanese schoolchildren and the concept soon expanded to other forms of merchandising and media, including toys, manga, trading cards, anime and video games.
The popularity of SD Gundam was such that between the late '80s and early '90s, sales from the SD Gundam franchise far exceeded those of the rest of Gundam, and whereas Gundam pioneered the real robot branch of mecha anime, SD Gundam's more comical and exaggerated approach to the genre served to move it away from the ultra-realism that it was shifting towards in the '80s and inspired a new flood of super-deformed robot shows the late '80s and early '90s such as Sunrise's Mashin Hero Wataru and Haō Taikei Ryū Knight, as well as video games such as the Super Robot Wars franchise. Later depictions of SD Gundams now use a 3-head scale as opposed to the classic 2-head scale.
The SD Gundam designs were also used throughout the earlier Super Robot Wars games (up through Super Robot Wars F and F Final, stopping at Super Robot Wars Alpha), as well as other similar crossover games, as can be seen by the pupils present in the eyes of the various Mobile Suits that appeared. From SRW Alpha and beyond, however, the eyes of Mobile Suits remain blank, though the robots themselves are still super-deformed (just as all robots represented in typical SRW games are) and they also adhered to the new 3-head scale. With a few exceptions, such as Neo Super Robot Wars and the Scramble Commander series, all robots featured in Super Robot Wars use a super-deformed design.
External links
Edit